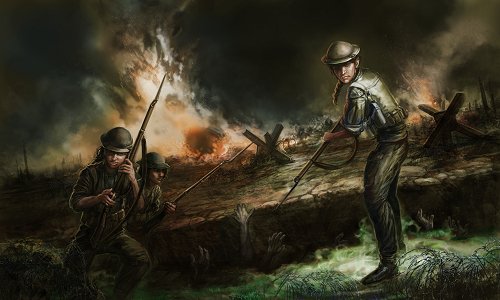 My latest short story "Poison Maiden, Open Skies" went live a few days ago at
Orson Scott Card's Intergalatic Medicine Show
as part of their special Festivals on the Front holiday issue.
"Poison Maiden, Open Skies" is about a group of women who were caught in a chemical explosion at the munitions factory where they worked, turning them into literally poisonous women, who constantly emit a cloud of deadly poison around them.
Together they now form Harpy Squad, a special assault team the British use against the Germans on the Western Front, but even though their abilities now make them invaluable living weapons, the women hold out hope for a cure and a return to a normal life.
The amazing art for my story is by
Nicole Cardiff
, and you can pretty much see what happens to the hapless souls who have the bad luck to just be standing near them.